Voca
Information
Home World:
Born:

c. 32 BBY

Died:

19 BBY

Species:

Human (clone)

Gender:

Male

Height:

1.83 meters

Hair color:

Black

Eye color:

Brown

Rank:
Unit:
Era(s):
Voca
was a
clone commander
during the
Clone Wars
. He was first mentioned during the ending of the Jedi Purge. Darth Vader had taken command of the
501st
, which gave Voca the rank of senior clone commander since the previous commander had been killed.
Skirmish on Atoa
Edit
Commander Voca was leading the Skirmish on Atoa. He was commanded to wipe out the scouts and destroy the soldiers. They forced the soldiers on Atoa to a tower and captured them. They only suffered a few losses and took it over. Darth Vader interrogated them, killed everyone that could wield a firearm, and burned the city. Then a female named Lady Saro (High Priestess of Atoa) said that she could help them with whatever they needed.
Ambushed in Space
Edit
They were seeking and found Admiral Garoche Tarkin's missing star cruiser, which was badly damaged. They were attacked by Atoan starfighters which were hiding in the debris, but Voca and the others managed to destroy them. They launched an attack on the planet that they suspected him to be held prisoner on, but couldn't find him. That's when Vader thought Tarkin was a traitor to the Empire.
Mutiny and Death
Edit
There was mutiny on the ship led by Captain Shale (a human officer) and the Storm Commandos. They killed some stormtroopers but lost a lot of men. Darth Vader and Voca searched for the remaining traitors but found that Captain Shale took Lady Saro with him when he escaped. There was suddenly huge explosions in the ship, which was set by the traitors, so Darth Vader, Voca, and a few squads of stormtroopers fled in a Nu-class shuttle down to the planet's surface. They were attacked by Captain Shale, Lady Saro, and Admiral Tarkin. They were all killed including Commander Voca, but Vader survived and was captured.
Appearances
Edit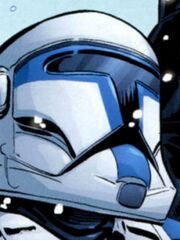 Star Wars: Darth Vader and the Lost Command 1
Star Wars: Darth Vader and the Lost Command 2
Star Wars: Darth Vader and the Lost Command 3
Star Wars: Darth Vader and the Lost Command 4
Star Wars: Darth Vader and the Lost Command 1
Star Wars: Darth Vader and the Lost Command 2
Star Wars: Darth Vader and the Lost Command 3
Star Wars: Darth Vader and the Lost Command 4
Voca on Wookieepedia