Order 66
Information
Era(s):
"In the event of Jedi officers acting against the interests of the Republic, and after receiving specific orders verified as coming directly from the Supreme Commander (Chancellor), GAR commanders will remove those officers by lethal force, and command of the GAR will revert to the Supreme Commander (Chancellor) until a new command structure is established."
―Order 66

Order 66
was one of the 150 Contingency Orders first established in the beginning days of the
clone
army
, established by the Kaminoans.
[1]
The orders were memorized by all troopers, and they covered everything from the Supreme Chancellor failing his duties (
Order 65
) to the Jedi betraying the Galactic Republic (Order 66).
[1]
In addition to the memorization, organic chips were placed in each clone trooper's head.
[2]
It made them carry out the orders,
[3]
but some troopers were able to resist the chip.
[4]
[1]
Order 66 commanded all the clone troopers to kill their Jedi officers in the event that they had betrayed the Republic. Almost all the Jedi were exterminated because of this. Very few Jedi survived this such as Obi-Wan Kenobi, Yoda and Kanan Jarrus.
Description
Edit
Order 66 was the sixty-sixth contingency order out of 150 contingency plans.[1] Each one was programmed into the chip that was planted in all clone trooper's brains.[2] Like all the contingency orders, when delivered to the clones, they were to be executed without hesitation.[3] Despite memorizing the orders, if the chip was removed, for cases such as Fives,[2] Rex,[4] Gregor[4] and Wolffe,[4] they would execute the order or not on their own personal accord.
If the Order was given, the clones were supposed to execute their Jedi Generals or any Jedi around them. The only clones that would execute their Jedi General would be ones to receive the order. This order also meant that the clones would kill any force-sensitive being around them, such as maul or Ahsoka Tano. The order was given at the end of the Clone Wars.[3]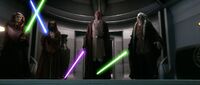 Before the Order was given, Jedi General Anakin Skywalker confronted Chancellor Palpatine, discovering that he was a Sith Lord. After reporting this to Jedi General Mace Windu, he ordered Skywalker to stay at the Temple, while he took care of it. Windu and Jedi Generals Kit Fisto, Saesee Tiin, and Agen Kolar went to deal with the Sith Lord. However, he was too much for them, taking out Kolar and Tiin almost instantly, with Fisto not long after.[3] Skywalker disobeyed Windu and went to assist, finding Fisto, Kolar and Tiin's corpses[5] and seeing Windu fighting Palpatine. Skywalker felt his emotions tear at him, eventually falling to the dark side and removed Windu's hand.[3] Skywalker would die and become Darth Vader shortly thereafter.
Activation
Edit
Before Vader led the 501st Legion to the Jedi Temple, Palpatine gave the order, via comlink. First he ordered marshal commander Cody and the 212th Attack Battalion to open fire on Kenobi. They did so without a moments hesitation, besides Cody's thought of "you couldn't done that before I gave him his lightsaber?".[5] Cody ordered their AT-TE to shoot down Kenobi and the creature he was riding on. He knocked the Jedi off the cliff wall, killing Boga and sending them falling into the rivers deep below. Marshal Commander Bacara and the Galactic Marines were next, killing Jedi General Ki-Adi-Mundi. All clones were given the order, including the 327th Star Corps killed Aayla Secura,[3] the 127th Gunship Wing who shot Plo Koon down,[3] Grey's Battalion who killed Depa Billaba[6] and the 91st Mobile Reconnaissance Corps who killed Stass Allie.[3]
Vader then took the 501st Legion to the Jedi Temple and began killing Jedi left and right, including Jurokk,[5] Cin Drallig,[3] Serra Keto,[7] Whie Maelroux,[3] Bene,[3] Sors Bandeam[3] and hundreds of others. Jedi General Shaak Ti, a council member, was killed by Vader himself.[8] Jedi General Kazdan Paratus was one of the few to actually escape the massacre at the Temple.[9] Several more Jedi were killed that night before they could escape off planet.[1]
On Mandalore, former Jedi General Ahsoka Tano was given her title again to fight a final battle in the Clone Wars, the Siege of Mandalore,[10] with her own company of the 332nd[11] fighting alongside her. During the battle, all the clones including Commander Rex were given the order. However, Ahsoka had removed Rex's inhibitor chip, which forced all the clones to comply, willingly or not.[10] Rex saved Ahsoka from the troopers of the 332nd and faked her death.
Caleb Dume, Padawan to Depa Billaba, was with his master when the order was given. The two killed several of the clones attempting to kill them, but Billaba was eventually killed.[6] Dume managed to escape by stealing a ship. Enroute to Coruscant, as the Jedi's beacon was going off, Dume received a message from Obi-Wan Kenobi who told all the Jedi to stay away from Coruscant. Dume entered the system and was almost instantly shot down, but he managed to escape back to Kaller, where he was stationed.[12] Eventually Commander Grey and Captain Styles caught Dume, but he managed to escape from them, with Grey's help. Dume became a smuggler and a drunk for several years, under the name of Kanan Jarrus.[13]
Aftermath
Edit
Around 2% of the Jedi Order survived the genocide, including Kenobi, Yoda, Jarrus, K'Kruhk, Jax Pavan, and Bardan Jusik. Kenobi went off to rescue Ferus Olin, a former Jedi who had left the order, but would then go off to watch over Luke Skywalker, Vader's unborn son.[14] Yoda would leave and remain on Dagobah for over 20 years until he finally became one with the Force.[15] Jarrus would be rescued from his drunken days by Hera Syndulla, a kindhearted Twi'lek,[13] and the two would form a unit known as the Spectres,[16] with a young boy named Ezra Bridger, who Jarrus trained in the ways of the Force.[17]
K'Kruhk would go on to live for many hundred years, joining Luke Skywalker's Jedi Order, becoming a High Council member. Pavan would survive the Temple massacre, eventually joining an organization called Whiplash, where they killed several Imperials and even fought Vader. He survived at least two duels with Vader and would go on to become a private eye.[18] Jusik had left the Order only a few months prior to the Order being given, but he was still a target due to his past. Jusik traveled off planet with a group of clone commandos and ARC troopers and Mandalorians who had become his family. Kal Skirata, their leader, adopted him, and he became one of his many sons he had adopted.[19]
Ahsoka Tano and Ferus Olin also survived the execution of the Order, despite leaving the Jedi Order years prior. Olin had left when he was simply a Padawan, after the death of his Master, Siri Tachi.[14] Kenobi went to rescue Olin as he had discovered he was on the list of Jedi the clones were hunting. Kenobi tracked him down and rescued him. He revealed he was apart of a resistance group called The Eleven, which terrorized the Imperial presence on the planet.[14] Olin would go on to form another resistance group with several other Jedi, but eventually he would die assisting the Rebel Alliance. Rex saved Ahsoka and the two friends parted ways until 15 years later.[20] Ahsoka would go on to become a mechanic for several different backwater operations. However, she eventually revealed herself as a Jedi.[10] She managed to go into hiding again as "Fulcrum" until she revealed herself to the Rebels as Ahsoka.[21]
Several clones became mentally unstable after order was commissioned. Darman became mentally unstable after Order, after losing his wife. During the war, he grew close to Jedi General Etain Tur-Mukan and would eventually marry her.[1] However, their marriage was very short lived; she was killed during the Order attempting to save a clone trooper. Darman witnessed her death, going rampant and closed off.[1] Niner was injured during the battle and Darman remained with him, but Niner recognized that this was not the Darman he grew to know and love.[19]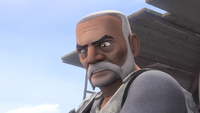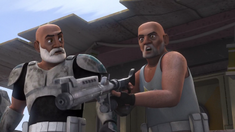 Commander Wolffe had also become unstable. 15 years after the Order was given, Wolffe, Rex and Gregor were enjoying retirement on Seelos when Kanan Jarrus, Ezra Bridger, Sabine Wren and Garazeb Orrelios came looking for Rex. Wolffe opened fire on them thinking that the Jedi had betrayed them, with Rex securing him, calming him down telling him that they weren't the ones who had betrayed them. Wolffe didn't kill any Jedi during Order 66, but he still received the order.[4] Gregor had also become unstable, but that was most likely due to having amnesia and then getting blown up and surviving. Gregor also did not kill any Jedi, but he did receive the order.[4]
Rex would go on to join the Rebel Alliance, becoming one of the high ranking officers of Phoenix group and eventually the Massassai group.[4][22] It is possible that Sev, a member of Delta Squad, survived after the Battle of Kashyyyk, where he went missing, only just before Order 66 was given. Sev would become the progenitor of the Rebel Alliance.[23]
Participants
Edit
Failed Kills
Edit
Jedi High General Obi-Wan Kenobi; attempted by Commander Cody [3]
Jedi High General Yoda; attempted by Commander Gree [3]
Jedi Commander Caleb Dume/Kanan Jarrus; attempted by Styles and Grey [6]
Jedi Commander Cal Kestis; attempted by the 13th Battalion [24]
Former Jedi Commander Ahsoka Tano; attempted by Jesse
Deserters and Disobedient
Edit
The clones all had chips inserted into their brains at a very early stage of development. However, some troopers chips were removed or the clones somehow managed to resist it.
Alpha ARCs[1]

Spar (Reason: Spar was the first deserter of the clones, therefore he possessed no armor and equipment)
ARC Lieutenant Sull (Reason: Sull was a deserter of the Clone Wars, who Omega and A'den helped escape the army. Fi kept his armor and equipment in his locker at the Arca Company Barracks)
ARC Captain Maze (Reason: Maze was present when Order 66 was initiated, and planned to execute his general, Arligan Zey, but Ordo spoke to him and informed him of what was truly going on. Maze spared Zey and saved him)
Individuals
Edit
Casualties
Edit
References
Edit
↑ 1.00 1.01 1.02 1.03 1.04 1.05 1.06 1.07 1.08 1.09 1.10 1.11 1.12 1.13 1.14 1.15 1.16 Order 66: A Republic Commando Novel
↑ 3.00 3.01 3.02 3.03 3.04 3.05 3.06 3.07 3.08 3.09 3.10 3.11 3.12 3.13 3.14 3.15 3.16 3.17 3.18 3.19 3.20 3.21 3.22 3.23 3.24 3.25 3.26 3.27 3.28 3.29 3.30 3.31 3.32 3.33 3.34 3.35 3.36 3.37 3.38 3.39 Star Wars: Episode III: Revenge of the Sith
↑ Star Wars: Galactic Atlas
↑ Star Wars: The Force Unleashed
↑ Kanan 3: The Last Padawan, Part III: Pivot
↑ Star Wars: Episode V: The Empire Strikes Back
↑ Star Wars Rebels: Spark of the Rebellion
↑ Star Wars: Rebels – "Droids in Distress"
↑ The Last Jedi
↑ Star Wars: Rebels – "Relics of the Old Republic"
↑ Star Wars: Rebels – "Fire Across the Galaxy"
↑ Star Wars: Rebels – "In The Name of the Rebellion"
↑ 26.000 26.001 26.002 26.003 26.004 26.005 26.006 26.007 26.008 26.009 26.010 26.011 26.012 26.013 26.014 26.015 26.016 26.017 26.018 26.019 26.020 26.021 26.022 26.023 26.024 26.025 26.026 26.027 26.028 26.029 26.030 26.031 26.032 26.033 26.034 26.035 26.036 26.037 26.038 26.039 26.040 26.041 26.042 26.043 26.044 26.045 26.046 26.047 26.048 26.049 26.050 26.051 26.052 26.053 26.054 26.055 26.056 26.057 26.058 26.059 26.060 26.061 26.062 26.063 26.064 26.065 26.066 26.067 26.068 26.069 26.070 26.071 26.072 26.073 26.074 26.075 26.076 26.077 26.078 26.079 26.080 26.081 26.082 26.083 26.084 26.085 26.086 26.087 26.088 26.089 26.090 26.091 26.092 26.093 26.094 26.095 26.096 26.097 26.098 26.099 26.100 26.101 26.102 26.103 26.104 26.105 26.106 26.107 26.108 26.109 26.110 26.111 26.112 26.113 26.114 26.115 26.116 26.117 26.118 26.119 26.120 26.121 26.122 26.123 26.124 26.125 26.126 26.127 26.128 26.129 26.130 26.131 26.132 26.133 26.134 26.135 26.136 26.137 26.138 26.139 26.140 26.141 26.142 26.143 26.144 "Order 66: Destroy All Jedi" - Star Wars Insider 87
↑ Dooku: Jedi Lost
↑ Dark Times 1: The Path to Nowhere, Part 1
↑ Star Wars Galaxies: Trials of Obi-Wan
↑ The Complete Star Wars Encyclopedia, Vol. I, p. 20
↑ Star Wars Battlefront: Elite Squadron
↑ Star Wars: Galactic Atlas
↑ Star Wars: The Clone Wars – "The Unknown"
↑ Rebellion 6: The Ahakista Gambit, Part 1
↑ Heir to the Jedi
↑ Star Wars: Episode III: Revenge of the Sith (Comic)
↑ Force Collector
↑ The Making of Revenge of the Sith
↑ Kanan 1: The Last Padawan, Part I: Fight
↑ "Salvaged" - Star Wars Clone Wars Adventures Vol. 9
↑ The Crimson Corsair and the Lost Treasure of Count Dooku
↑ Star Wars Empire: "General" Skywalker
↑ Friends Like These
↑ Star Wars: The Clone Wars – "The Deserter"
↑ The Clone Wars: Defenders of the Lost Temple
Community content is available under
CC-BY-SA
unless otherwise noted.