| | | |
| --- | --- | --- |
| | | This page requires a cleanup to perform a higher standard of quality. This may include fixing photos, sections, templates, and overall content. When the page matches the guidelines set in the regulations and format, this template may be removed. |
Dox

Home world:

Born:

c. 32 BBY

Died:

21 BBY

Species:

Human (clone)

Gender:

Male

Height:

1.83 meters

Hair color:

Black

Eye color:

Brown

Rank:

Era:
"General, the enemy's advancing. There are only nine of us left Any Orders?"
"Take out as many as you can. Die Well."
"Copy that."
―Jedi General Ronhar Kim and Commander Dox

Dox was a clone trooper that served in the Grand Army of the Republic.
Dox was assigned to Jedi General Ronhar Kim as his second-in-command. Dox, Kim and Kim's padawan, Tap-Nar-Pal were sent to the planet of Merson to force pirates to retreat. Before embarking, Dox came to his officers to inform them they were prepared to leave, during their meeting with the Chancellor.[1]
After they embarked, they arrived on the planet and began pushing back the pirates. Unbeknownst to them, the Chancellor, aka Darth Sidious, had informed Count Dooku that there was a force of clones going to Merson and sent several legions of droids to the planet. The clone forces were severely depleted to only a few remaining.[1] Dox and Kim watched Pal destroy a few droid starfighters before being shot down and killed. Dox stood there awaiting orders, while Kim sat in grief.[1] Dox stood by until the General recovered. He told him it was time for a final stand. General Kim was shot down almost immediately, while Dox and his final 9 troopers, made a last stand until they each fell to blaster fire.[1]
Personality and Traits
Edit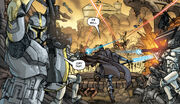 Like most clone troopers, Dox was highly obedient and awaited his orders with patience.[1] The trooper was 1.83 meters and had black hair and brown eyes. His helmet contained the standard gold-trim for Clone commanders.[1] He possessed a giant scar across his face.
Appearances
Edit
Star Wars Republic 64: Bloodlines
References
Edit
Community content is available under
CC-BY-SA
unless otherwise noted.