Contrail

Number:

CT-4981

Alias:

Shadow Eleven

Home world:

Born:

c. 32 BBY

Died:

3 ABY

Species:

Human (clone)

Gender:

Male

Height:

1.83 meters

Hair color:

Black

Eye color:

Brown

Variant:

Unit:
Contrail, known by his number CT-4981 or his call-sign "Shadow Eleven", was a very experienced clone pilot in Shadow Squadron. An expert pilot of both Y-wing bombers and TIE fighters, he fought through the Battle of Kaliida Nebula, Battle of Kamino, Order 66, and others until his death in 3 ABY.
Clone Wars Era
Edit
Contrail was born like all clone troopers on Kamino. He was trained to be a pilot in the Galactic Republic Navy. He was assigned to Shadow Squadron after he completed his training on Kamino. During the Clone Wars, Shadow Squadron was responsible for helping the Jedi take out the Separatists' super destroyer, the Malevolence. Many members of the Shadow Squadron perished during the fight, but Contrail and many others were able to destroy the Malevolence. Contrail and Shadow Squadron would later encounter many other skirmishes.
Rise of Empire Era
Edit
After Order 66, Contrail was one of the few troopers that were able to survive the Clone Wars and become the first Imperial stormtroopers in the Galactic Empire.
Galactic Civil War
Edit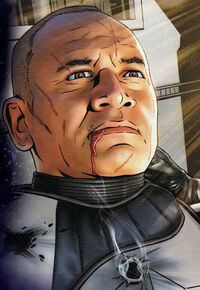 Contrail served as a Imperial pilot, after Shadow Squadron was disbanded in 17 BBY. The trooper rescued Darth Vader from his TIE Fighter. Vader recognized him as a clone trooper and later as Shadow Eleven from the Battle of Kaliida Nebula. Contrail was killed on an assignment with Vader. Vader avenged his death by slaughtering his murderers.
Community content is available under
CC-BY-SA
unless otherwise noted.