Welcome to Nerra Squad's official page!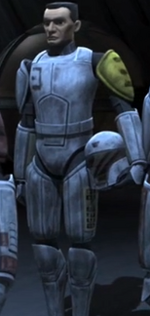 ---
"Freetaa Chee, Distombe Frith, Freykaa Nerra"
―Nerra Squad's motto
Welcome to Nerra Squad, a basic training unit for the new recruits of this wiki's 617th Attack Battalion. It is managed by senior member(s) of the community who are very friendly and resourceful. Its current Senior Non-Commissioned Officer (NCO) is Sergeant Jep Do Tenko.
This squad includes all recruits who are currently in training. All cadets, as they are called once they join, will take the Basic Training Course (BTC). This will familiarize them with the regulations and the community. It will be divided into the Water Phase and the Fire Phase. Once a user passes, he or she will officially receive the rank of Private. For information on the BTC visit the link about it above.
Joining Nerra Squad
---
After signing up or leaving a message on a Commanding Officer's message wall, the recruits will have the be listed as a Cadet on the Roster.
After being posted they will be placed into Water Phase. They will be assigned to a senior member of the community who will explain the basics. After passing, they will move onto Fire Phase where they will complete their training. Once they graduate, they will be given the rank of Private.
Other Info
---
All cadets will learn the regulations in their course. Failure to follow the regs while in the course is acceptable, as they have not learned them yet. However, major vandalism and trolling will not be tolerated, and may result in expulsion from Nerra Squad.
In order to add that you are a cadet in either phases to your user page, simply add {{CadetWater}} or {{CadetFire}}
Water Phase cadets:
---
Fire Phase cadets:
---
Senior NCO of Nerra Squad:
---
Other Instructors:
---
Facts:
---
The founding date of this page was August 11, 2014.
The was founded as an effort to help new users as a result of a loss of editors in June of 2014.
"Nerra" means "brother" in the Ryl language.
Nerra Squad's motto means "Brave Warrior, Strong Defender, Beloved Brother" in Ryl
---