"Hold your fire! Hold your fire!"
―Blyndblitz

This page/section is currently undergoing finishing by Blyndblitz. As a courtesy and to avoid edit conflicts, please do not make edits while this message is displayed. Any edits desired to be made by other users should be placed on the page's talk page.
Comlink Manual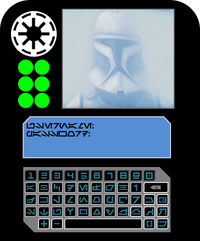 ---
This is the guide to everything for our official Comlink. Our comlink is used for live and quick wiki discussion. Private channels are also created on it for talk with Kotep Squad nominees.
Comlink technicians, also known as comlink techs, should be respected. They check to make sure everything is orderly and that spamming, swearing, and vandalizing is controlled. They can kick and ban users who disrupt it. Commanding officers, frequently called COs, should also be respected. They help monitor this wiki, and if you have any questions, they can be asked.
Regulations:
---
No disrespectful language to other users.
Be nice to other troopers, regardless of their rank.
No vulgar language should be used on the comlink.
Comlink moderators should not ban or kick users for no reason. If this happens, please report it to a CO.
Games:
---
A common game that can be played is "Which Clone is This?". In this game, which was created by SapphireStuardust, Legoclones, and Blyndblitz, a user whose turn it is types in emoticons of troopers. It is the other players' job to type in the name of the trooper. This game can be played until the users get bored or they run out of emoticons. The game rotates between users.
If any user has his or her own games which can be played on the comlink, please contact a CO.
---

Community content is available under
CC-BY-SA
unless otherwise noted.