Welcome to the 617th Attack Battalion's official page!
---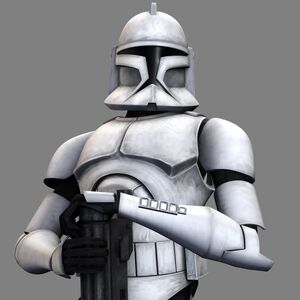 "No clone left behind."
―Our motto
This unit is comprised of the users and editors of Clone Trooper Wiki. All users are encouraged to join this battalion as a private. Sign up by leaving your name in the sign up page. Once you have signed up, you can move up the ranks of editors by completing the requirements and passing an inspection given to you by your Commanding Officers (commonly referred to as COs).
All troopers must follow the regulations in the reg manual. Failure to follow these regs may get you demoted. In the Recent Wiki Activity page, you can view the community messages sent to all the troopers. To communicate with your fellow members, you can create a blog or go to chat.
Occasionally, a news/announcements blog will be created by Battalion Commander Blyndblitz informing you of all the new announcements, promotions, demotions, and features on this wiki. Try not to be one of the demotions, but one of the promotions! In order to get promoted, you can edit, help nominate articles to classes, or help with the projects. A group of users may be granted commando status, and they will often embark on special projects given out by their commanding officer. They will be part of a Spec Ops squad known as Kotep Squad.
Ranks:
---
Clone Marshal Commanders

Senior Clone Commanders

Clone Regimental Commanders

Clone Battalion Commanders

Clone Trooper Majors

Clone Trooper Captains

Clone Trooper Lieutenants

Clone 2nd Lieutenants

Clone Sergeant-Majors

Clone Trooper Sergeants

Clone Trooper Corporals

Clone Trooper Privates
Once you have gotten your rank, you should visit the portal to your rank. Simply click on the link of your rank. All the info, requirements, and other will be posted there.
Members:
---
→(see Clone Wiki:617th Attack Battalion/Roster)
Information:
---
| | |
| --- | --- |
| New Features: | Recent Promotions/Demotions: |
---

Community content is available under
CC-BY-SA
unless otherwise noted.