Welcome to Clone Trooper Wiki!

We are a collaborative encyclopedia for everything and anything related to clone troopers from the Star Wars franchise. We strive to be the most comprehensive and accurate database for clones on the internet.

Ever since the inception of stormtroopers in A New Hope, the white armor-clad space soldier has been one of the most distinctive icons in any Star Wars media. Created as the precursors to their Imperial counterparts, the clone troopers of the Galactic Republic served during their eponymous conflict: the Clone Wars. The clones' story has been further fleshed out since Attack of the Clones through various shows, comics, books, and other media, connecting their origins to the Mandalorians and their legacy to the Galactic Empire and Rebellion.

We currently have 1,281 articles since our creation in 2009, and are constantly expanding and improving our pages. Anyone who wishes to help us can edit, create pages, upload images, or contribute in other ways. We highly recommend having a registered wikia account for easier recognition and communication. Take a look our regulations to see some of our policies before editing, which will help you to make more complete and accurate edits. (Please note that they are currently undergoing revision.) Feel free to leave a message in the forum or contact a Commanding Officer with any questions or concerns. Happy editing, ner vod!

Warning: this wiki contains spoilers!

Please take notice that this is not a fanon wiki; all articles must be canon Star Wars content. If you have your own fan stories, feel free to publish them on our fanon wiki, or on Star Wars Fanon Wiki.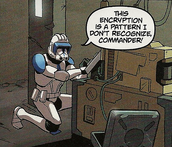 Six-ten
was the nickname of a clone trooper who served within the
501st Legion
during the
Clone Wars
. He was a clone of the bounty hunter
Jango Fett
, and was born on the planet
Kamino
.
Sometime during the
Clone Wars
, the
501st Legion
and some shock troopers launched a raid on a Separatist factory in the Outer Rim. They stole an encrypted file on a data chip, which was crucial to the Confederacy of Independent Systems. Battle droids attacked the clones, seeking to recover the file. Six-ten, carrying the data chip, ran into a building where he attempted to decrypt the file, at the request of a commander.
(Read more...)

Need Help?
If you have any questions, feel free to message any of our wiki administrators, referred to in-house as our Commanding Officers. They can contacted on their respective message walls or through our community discord.


Twitter
"Don't worry about me. You made me remember who I am. I'll make my way home, I promise. Now go!"
―Gregor, during the Escape from Abafar
Slick's platoon
Flash
Unofficial Affiliates
Official Affiliates