Barr

Number:

CT-41/14-0301

Home world:

Born:

32 BBY[2]

Species:

Human (clone)[1]

Gender:

Male[1]

Height:

1.83 meters[1]

Hair color:

Black[1]

Eye color:

Brown[1]

Rank:

Variant:

Platoon Leader

Unit:

Era:

Clone Wars
Galactic Empire

Barr
, or
CT-41/14-0301
, was a
clone trooper lieutenant
that served in the
Grand Army of the Republic
.
Barr was born in 32 BBY on Kamino and was trained from birth.[1][2] He exhibited immense leadership skills, eventually earning the rank of lieutenant. Upon graduating from training, he was assigned to lead the 2nd Platoon, a subsidiary of Bacta Company, which in turn, was a division of the 327th Star Corps. He had 32 troopers and four medics placed under his command.
Early in the war, the 327th attempted to reap information from the memory banks of a Confederate tactical droid, by setting up a trap in a canyon.[3] They were able to fabricate an information bunker, which attracted the attention of the droid. The droid ordered his troops to fire on the base. Unbeknownst to them, Barr, alongside Commander Bly, and Lieutenants Inc and Galle, attacked the droids from behind.[3] The droids were easily dispatched, mostly by Jedi General Aayla Secura. Since the droid had not gone into cyberostasis, they would be able to plunder its memory banks for intel.[3]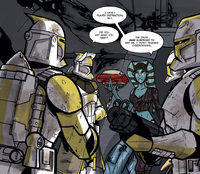 Barr survived through the Clone Wars, fighting alongside the 327th and Secura. At the Battle of Felucia, where he served with Secura, Bly and Galle.[4] There, the troopers received Order 66. Barr assisted in killing Secura.[4] Secura's body fell fast, but the troopers, Barr included, kept firing.[5]
Appearances
Edit
The Clone Wars: Headgames
Reversal of Fortune
Star Wars: Episode III: Revenge of the Sith
References
Edit
Community content is available under
CC-BY-SA
unless otherwise noted.